Install Latest Official Android 4.1.2 Jelly Bean 6.2.B.0.211 Firmware on Xperia S and Xperia SL
This month Sony has been launched Android 4.1.2 Jelly Bean and 4.2.2 Jelly Bean update for numerous devices. During this article,  we will teach you how manually install Android 4.1.2 official firmware for Xperia S and Xperia SL devices.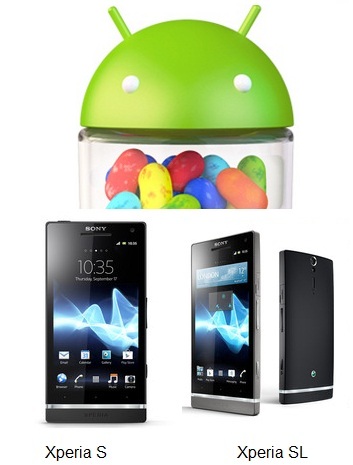 This new update is named as 6.2.B.0.211 and comes for improving the customization capability and to bring new features and bug fixed for OS on your Sony Xperia S and SL device. This latest firmware fix the battery drain issues that has been related by its users, and in the same manner to gain speed for Xperia S and SL devices.
The Android 4.1.2 JB 6.2.B.0.211 update has been officially pushed out by Sony for Xperia S and Xperia SL devices by OTA, but as you probably know that the update is rolled out on stages, and Xperia S/SL users didn't receive this latest firmware on the same time. So during this step by step tutorial we will teach you how to flash this update manually for all the users who didn't receive the 6.2.B.0.211 for their S or SL devices.
Before to move the tutorial at the step by step installation guide some prerequisites are required and also a preparation guide is necessary for the Xperia S or SL devices.
Now let's follow the next guidelines to learn how can prepare the Xperia S/SL device for the installation process:
As I mentioned before, this is an official released firmware and that's means you don't learn to update your Xperia S or SL devices with a custom ROM update.
The warranty for your device will not get void after this officially firmware will be installed.
This tutorial and all instructions listed here work with Sony Xperia S and Sony Xperia SL devices as have been received the Android 4.1.2 6.2.B.0.211 JB update, so do not try to install the same for any other similar or different device, you can easily brick them.
This manually guide works for both rooted and no-rooted devices. If you'll install this officially firmware for a rooted device, the root rights will be revoked, and the warranty will be restored for it.
For installing,  the Android 4.1.2 6.2.B.0.211 JB update will not use the PC companion, and we will use another flash tool which is named Flash tool, so don't worry about how to use it because we will give you all the details on our step by step guide below.
A personal PC will be used and the original USB cable for your device.
Uninstall, or deactivate all the security applications like antivirus and firewall from both PC and Android device, these programs can interfere with the installation process and can interrupt the updating action.
 Make sure that your device's battery of your Xperia S or SL device has more than 85% power left before power off your device, or else the Sony device can get a forced power off on the middle of the flashing procedure.
Now, from the following path: "Settings -> More -> Development Options -> USB debugging you need to enable the USB debugging option
Backup all your data stored on the internal device's memory of Xperia S and SL, before going any further, in case something won't work well you can lose all your personal data. This is a manually procedure, and you never know what can happens during or after the installation process, so backup all your data like  prevention. Save your contacts, call logs history, internet settings, market applications that you have installed on your device, SMS text messages, EFS  folder, and if you have possibility your current ROM.
All these instructions and information listed on this article are only for educational and instructional purpose, so do not blame us or liable if you'll apply this tutorial and during step by step guide or after that you lose any data or brick/damage your device. Apply this guide only on your own risk.
I think that's all prerequisites and guidelines that you need to follow before to move on the next section where we will teach you how you can manually install official Android 4.1.2 Jelly Bean 6.2.B.0.211 update for Sony Xperia S and Xperia SL devices.
How to Update Sony Xperia S and Xperia SL to Latest Official 6.2.B.0.211 JB 4.1.2 Firmware:
Firstly, download the Official JB 4.1.2 Firmware package from here.
Secondly download the Flash tool app on your computer from here.
Now, Install Flash tool on PC (run it and follow the prompts).
 Next, open the Flash tool app by clicking on the "thunder" icon.
Select "Flashmode" and after that select "ok".
 From the Flash tool app select "…" and browse and pick the .ftf file which is the firmware file that you have downloaded previously.
 Power off your android device.
Now, press Volume Up button and while pressing these buttons connect the smartphone to the PC using its original USB cord.
After the connection will be established the installation process will begin automatically.
 Now, wait until the update process will be successfully finished and don't press anything.
The device will be automatically rebooted for the first time on the Android 4.1.2 Jelly Bean firmware.  This first boot of the Sony Xperia S or SL device take longer than in a normal way, wait there is nothing wrong with your device.
When the smartphone is running on the new firmware verify the 6.2.B.0.211 ROM is there or not from the following path: "Settings -> About Phone -> Build Number".
Congratulation; now the Sony Xperia S or Xperia SL is running on the latest and official Android 4.1.2 Jelly Bean 6.2.B.0.211 firmware.
For any other supplementary questions, or in case you have some issues don't hesitate to use our comment section from below.
Note: This firmware is also available via PC companion and this tutorial is an alternative manually guide method for installing the same.