How to backup and Restore your SMS on Android Phones
In our days it's good to have a copy for your information, never know when we have need a text messages from a friend or our boss received in our smart phone and deleted, when I searching in internet to find an application for Backup SMS on Android, I found one of the best application which make this. SMS Backup & Restore, is a free app available on Google play store and have a user-friendly interface with more options, I will share with you some option before we start the instruction for make backup and restore for our SMS messages on Android.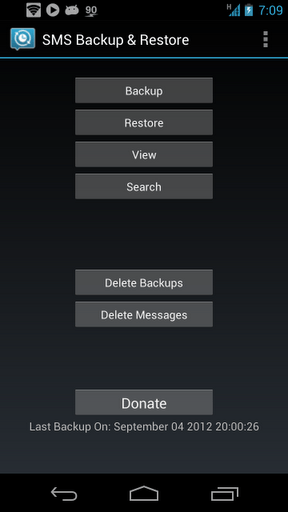 Features for SMS Backup & Restore:
You can now backup your SMS Messages in one easily mod and a universal extension, XML format.

It's easy to choose a scheduled time to make automatically your backup for SMS in your phone everyday.
For be an individual backup every time when you want, now you can choose the name of the file to backup to.
Have a great Option to add and XSL style sheet to the XML file, this thing make it this file to be open easily with a browser web like Firefox or Internet Explorer.
The Backup format not depends of which Android versions you use so the messages can be portable easily from one phone to another, Tested with v1.5 to v4.0.

An option which permit to select the individual conversations to backup.
Choose the format for the auto-generated file name.
Function for Restore SMS Messages with a great option to select the backup file to be restored from the folder.
View Messages in the backup files.
Possibility to delete all SMS Messages on your Android Phone.
Email a backup file.
Option to delete existing backup files plus an option to delete old files automatically, after specified number of days.
Import SMS messages from Windows Mobile, from Nokia and from Sony Ericsson.
You can view and edit on your computer using MS excel the backup files imported from your android.(click here to see how) .
How to Backup SMS on Android.
First go to access the Market icon on your Android device.
On the search box of Market store application type SMS Backup and Restore, and then press on search button.
When the results appear press "SMS Backup & Restore", and install it.
Now wait to finishing the installation of program and tap the "SMS Backup& Restore" icon on your Android phone to run it..
Now a GUI interface will be displayed and go to press "Backup SMS Messages" Button.
Enter file name and press on "OK" button.
The application will start SMS Backup immediately the process on your android device.
Press the "Close" button when SMS Backup is completed.
Note: This SMS backup file will be stored on your Micro SD card.
How to Restore SMS on Android with SMS Backup & Restore application
After SMS backup process you have the backup file and now you want to restore one or more SMS messages.
First transfer the SMS backup file on your SD Card on your Android phone.
Run the SMS Backup & Restore application and after the GUI application is displayed press Restore SMS Messages button.
Chose a SMS backup file that want to restore and after press on Ok button.
The application will start restoring the SMS messages on Android.
After the restoring process is finished press "Close" button.
Now all your SMS messages are restored from your backup file.