Update Samsung Galaxy Note GT-N7000 to Android 4.2.2 Jelly Bean with SlimBean Build 7 custom ROM
Samsung Galaxy Note N7000 device has been a powerful device, but as you know other latest devices has been released and nothing stays at the same position to longer.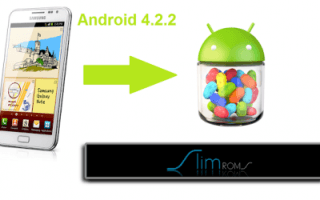 Now, a new device will be launched on the same class, is about Note 3, but for users who didn't change their device and have Note N7000 device, during this article we will teach you how to update the same with a custom ROM firmware which is build on Android 4.2.2 Jelly Bean based Slim Bean build 7 firmware.
As you know, Slim Bean is a custom ROM firmware which integrated popular platforms like CM 10.1 and AOKP or ParanoidAndroid. So, this firmware is a mixed custom ROM which comes to add new firmware, stability, new applications and other capability which cannot be found in a default official Android version.
This latest Slim Bean build 7 is based on Android 4.2.2 Jelly Bean Software and for this reason by installing this new custom ROM on the Galaxy Note the device will be able to use the latest capability and performance that JB 4.2.2 firmware has.
Of course,  this is a custom ROM, and after updating with it the Note device will be running on a custom Android OS, but as I said before SlimBean Build 7 is a stable version of firmware and come with numerous customized features and tweaks and here I want to list some of the main SlimBean Build 7 features. Also,  it comes with QS and Notifications to navrings, Privacy Guard, Privacy Guard Manager, SMS Middleware layer, option for subtle vibration notification during calls, all init.d scripts removed, support for m7att and m7tmo, translation updates, optimizations and fixes features, contacts apps aware of blacklisting being disabled features.
Also, the latest SlimBean build 7 firmware will run faster than the officially Android Jelly Bean firmware, and it will improve the device's battery life.
Furthermore, as you know that when a custom Rom is running on an Android device it have access to the internal file system of your Note N7000 device, and that can be an advantage or a disadvantage. Advantage is when you want to remove build applications, or add some custom application or when you want to perform custom optimizations for your device, and a disadvantage is that you can install a wrong application and then the internal file system can be affected.
To conclude SlimBean build 7 is stable and comes with numerous features without bugs or other reported issues, it is based on the Android 4.2.2 Jelly Bean firmware and is especially developed to run smoothly on the Samsung Galaxy Note N7000.
In order to learn how you can flash this custom ROM on the Galaxy Note device, you need to follow all the steps from below.
Pre requisites:
Firstly, backup all your personal data stored on the internal device's memory. The flashing process will wipe all data saved on the internal storage memory.
The galaxy Note device should be rooted and have ClockworkMod recovery installed.
Download and install suitable USB Drivers for Samsung Galaxy on your PC.
Get a full backup for your actual ROM, use a Nandroid backup, this backup is necessary to easily save or restore the actual ROM firmware in case you won't like this custom Slim Bean ROM.
This guide is an unofficial update and isn't released by Samsung so the warranty of the Note device will get woid. In case, you want to restore the warranty you should downgrade to the stock an officially Android firmware or of course update your device with an officially released Jelly Bean firmware.
An PC and the USB cable will be used in the installation process.
Uninstall or disable all the security application from both your PC and phablet i you want to don't have unpleasant events.
Enable the USB debugging option, for doing that  Press Menu>> Settings>> Applications. And from there click on Development option and make sure that the USB Debugging Mode is enabled.
Verify the Galaxy Note battery to have above 85% battery charge.
If you want to read more about this latest custom ROM you can visit this thread.
We want to thanks for this step by step tutorial those of xda-developers who has been developed and offered it.
Also, SlimBean Build 7 custom ROM presented here  works only with Samsung Galaxy Note GT-N7000. Do not apply the same on any incorrect variant devices because you can brick or damage the device.
For be sure about the device model navigate to Settings > About phone > Model Number.
Android.sc team reminds its readers it will not be responsible or held liable for any data lose on the installation process or if the device will be bricked or damage. Use this step by step guide only on your own risk. All the information and instructions listed here are provided only for educational and instructional purpose.
 How to Update Samsung Galaxy Note N7000 with Slim Bean build 7 based on Android 4.2.2 Jelly Bean Custom ROM Firmware
Download the latest the Slim Bean JB 4.2.2 ROM file from here.
Download Google Apps pack from  here. The Gapps is not including on the Slim Beam pack, and for this reason it will be installed separately.
Save both downloaded file on the PC and do not unzip them
Connect the Note smartphone to the PC using USB cable.
Move (copy/paste) the downloaded files from the PC to the Note device.
Disconnect the device from the PC
Turn off the device.
Reboot it into Recovery Mode. To do that press and keep holding Volume Up + Power + Home buttons simultaneous.
Now, from the Recovery Mode menu you need to wipe the system, for doing that select "wipe data factory reset", "wipe cache partition" and "wipe dalvick cache".
Next, return to the main Recovery Mode menu.
From the main Recovery Mode menu select "install zip from SD card" and then  "choose zip from SD card".
Browse and pick the copied Slim Bean ROM file and confirm its installation,
Repeat the installation operation from above (step 11 and 12) for installing the Google Apps pack.
Now, select "+++go back+++" and choose "reboot system now".
Now, the Note device will boot for the first time running customized SlimBean Build 7, this first but will take about six minutes.
For verifying the new custom ROM firmware version navigate to Settings>> About phone.
Note: in case you don't like the Slim Bean Build 7 custom ROM, boot the Note device into recovery mode and select Backup and Restore option and then restore the previously ROM that you have made a fully Nandroid backup.
Congratulation, you have successfully installed Slim Bean build 7 custom ROM base d on Android 4.2.2 Jelly Bean custom ROM firmware on Samsung Galaxy Note N7000.
For any other supplementary questions please use our comment section below.