Update Samusng Galaxy S2 I9100 with latest AOKP Milestone 2 Android 4.2.2 JB Custom ROM firmware
The new AOKP (Android Open Kang Project) team developed and released a new version of the AOKP custom ROM firmware; this new custom ROM is named JB-MR1 Milestone 2 firmware. It is based on the official Android 4.2.2 Jelly Bean operating system.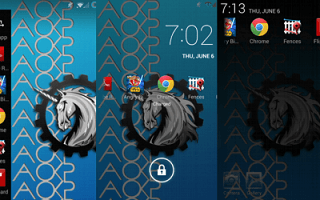 The new officially Android 4.2.2 update is now available for numerous devices based on Android system, but some of the Android devices didn't received this latest OS, that's why during this tutorial you can learn how manually install the AOKP Milestone 2 JB 4.2.2 custom ROM on Samsung Galaxy S2 I9100 device.
This new custom update comes with new features, applications and capability to customize and optimize the Samsung Galaxy S2 device, and additionally it offers a stable version of JB 4.2.2 custom firmware.
This new AOKP JB-MR1 Milestone 2 firmware has been released by the AOKP team as the latest custom firmware based on the JB 4.2.2 until the Android 4.3 Jelly Bean OS will be officially released; the rumors reported the new Android OS will be introduced on Google's event at the end of this month, in July 24.
After the new AOKP Milestone 2 custom ROM firmware will be installed on the Galaxy S2 I9100 device, you can use and test the new features that it comes, features such as   AOKP Ribbon, mGerrit, Dark AOKP, Persistence support, Permission management, Quick Torch on Lockscreen, HDR mode in AOSP Camera, New Toggles, Superuser from Koush.  All these features are coming to improve the default Android 4.2.2 Jelly Bean experience with a stable custom ROM.
Before starting the flashing process of AOKP Milestone 2 on the Samsung Galaxy S2 device some prerequisites and a preparation guidelines have to be followed first. Remember that this is a manually installation process and will use a custom ROM, in these conditions you need to be an advanced Android user to use these instructions:
The Samsung Galaxy S2 device need to be

rooted device

and to have a custom recovery image installed on it, or else you will not be able to complete the step-by-step instructional guide.
Complete a full backup of your data stored on internal storage of Galaxy S2. The backup is necessary because for installing an AOKP Milestone 2 during the flashing process a wipe will be required.
So back-up all your personal data as contacts, SMS, call logs history, EFS folder, use a Nandroid backup for backup your current ROM, save all the market apps and all other personal files. In case you don't backup the data you will lose everything that's stored into device's internal memory.
In this flashing process,  you'll use a PC with an internet connection available, the original USB cord and the S2 device.
Uninstall or disable all security tools such as Antivirus, firewalls. Kies app from your PC.
Your Samsung Galaxy S2 device should have enough power left in its battery; so, make sure the device's battery charge level is more than 70% power left.
Navigate to "Settings -> Development Options -> USB debugging" and enable the USB debugging option on the Galaxy S2 device.
This guide works with Samsung Galaxy S2 I9100 model number I9100, do not apply this step-by-step guide for any incorrect devices, you can brick them.
The warranty for the S2 device will get void. If you want to restore the S2 device's warranty you need to do a downgrade to stock Android OS.
The AOKP Milestone 2 firmware is a custom ROM, it shouldn't be considered an official OS released by Google.
All these instructions listed here are provided only for educational and instructional purposing, so, we are not responsible or held liable if you'll lose any data or brick your device during or after apply this firmware. Use this guide only on your own risk.
How to Update Galaxy S2 with new AOKP Milestone 2 JB 4.2.2 Custom ROM Firmware
Download AOKP Milestone 2 JB 4.2.2 Custom ROM file from here and save it in your PC.
Don't unzip the downloaded file.
Now, download the Gapps pack from here, save it on the PC and don't unzip the same.
Connect the Samsung Galaxy S2 device with the PC using the USB cable.
Move (copy and paste) the downloaded files on the S2 device's SD card.
Disconnect the S2 device from your PC.
Power off the device.
Boot it into recovery mode. ( Press Power, Home and Volume UP buttons simultaneous).
From recovery Mode Menu wipe the system, to do that select "wipe data factory reset" and then "wipe cache partition" and "wipe dalvick cache" options.
Now, return to recovery mode menu with "+++go back+++" option.
Now, from the Recovery Mode main menu select"install zip from SD card" and then "choose zip from SD card".
Next, browse SD Card and pick the Milestone 2 JB 4.2.2 Custom ROM Firmware file and install the same on the Samsung Galaxy S2 device.
Now, do the same thing but chose the Google Apps file and flash the same on  the S2 device.
Select "+++go back+++" and from the Recovery Mode main menu "reboot system now".
Congratulation, you successfully learned how to flash the latest AOKP custom ROM (JB-MR1 Milestone 2) build on Android 4.2.2 Jelly Bean for Samsung Galaxy S2 I9100 device.
 Troubleshooting:
If the S2 smartphone will get stuck in a boot loop, you have to boot it into recovery mode again, and from there select "wipe data factory reset" and then "wipe cache partition".
Please let us know in our comments section, how the new custom firmware is working for the Samsung Galaxy S2 device.