How to Root, UnRoot, Backup, Unlock, Install Recovery Google Nexus 7
Now with just a click you can root, unroot, backup, restore and unlock/lock the boot loader for your Nexus 7 Tablet device, you can install the APKs, and flash system recovery image, all this with just a click. The WugFresh user of XDA forum community share with as this great work around, in this way we thank him very much. If you want to root your device with a set of ADB, commands, you need to have installed the ADB on your PC correctly.This tutorial about rooting procedure, will be compatible and working only on the latest firmware of Jellybean 4.1.1, they really help is the User Interface which is very friendly and you only follow the bellow mentioned instructions. As I said above, the important actions with this tool are: Root/Unroot, Backup and restore, Unlock/lock bootloader, Flash images such as system, recovery, etc, Install app APKs. Before applying any firmware in your device, we recommend full backups for your important data stored on your device, in this way you will be sure you not will lose your important data, below we will give you some procedures and tools to help you to make safe copies for your data.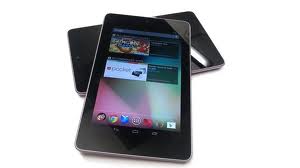 For your important Images file, Songs file and Videos, Files we recommend to Copy it on an internal / External SD Card.
The internet settings you can save APN and MMS Settings when you note down from the path "Applications > Settings > Wireless and Network > Mobile Networks > Access Point Names"
When all this instructions mentioned above are done, now, you can proceed to the next steps where you will find the detailed tutorial about how to customize your Nexus 7 Tablet device with only a click.
Disclaimer:This post is only for the educational purpose. So if, anything happens to your device we are not responsible for that.
How to customize ASUS Nexus 7 with One Click Tool:
 The first step is to Download the One Click Rooting Tool on your PC. When the download is completed, you should install the tool on your computer.
Now, please verify that the USB Debugging is enabling on your device, for doing that,  please follow the next path: "Settings > About Tablet" section.
For installing the tool on your computer, please follow the screen instructions. The installation is simple, is like an other windows applications:
For see what is the current firmware on your Nexus 7 Tablet, please check this from the following path: "Settings > About Tablet" here you will see which firmware version is installed on your tablet.
Now select the same option like the image showed and after that you should connect your Nexux 7 tab to your PC with the original USB cable. After the connection is ok, now click on "OK" and select the action which you want to perform for your device from this simple dashboard user interface which you see below.
Note: If your device doesn't boot up you should press a long time the Power Button, or take off the battery and after reinsert it to turn off the device. After that retry to apply the process from start.
So, now you know How to customize ASUS Nexus 7 with One Click Tool.