How to Install TWRP Recovery on HTC Hero Android device
If you're the owner for HTC Hero smartphone and you want to flash some ICS and Jelly Bean custom firmware, firstly you need install a recovery image on your smartphone, today in this article I will share with you a step by step tutorial about how to install the TWRP Recovery on your HTC Hero smartphone. According to those of XDA-developers the Hero from HTC smartphones will be able to install custom ROMs and ICS and Jelly Bean custom firmware.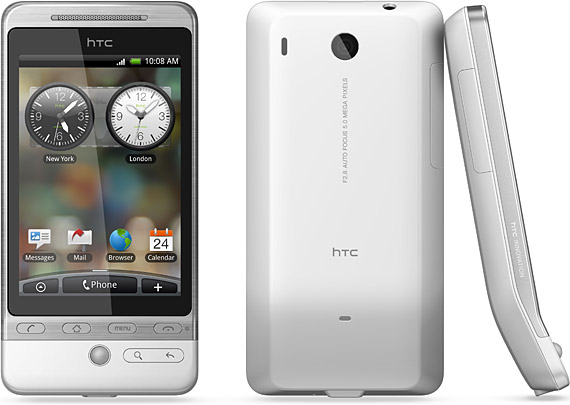 This tutorial is for all HTC Hero owners who don't want change their device with one high end smartphone, so in order to have  the full custom advantage of the HTC Hero you need to root your device and to install in your device a custom recovery image, we recommend TWRP recovery, after these actions you can install the complex applications on your device which required the root access, and a powerful thing is that you can flash custom ROMs firmware on it.
The TWRP recovery image offers different capabilities, and you can use these when you want to backup data of your smartphone, you can install different updates or firmware, customize operations, and other several features. On you HTC Hero after you installed the TWRP recovery image you can enjoy its advantages consist in the "touch" feature, you can use all the TWRP functions without using the side buttons or power keys, only tap on the screen and you can choose which option you want. The TWRP recovery comes with a friendly UI and has more features like an other recovery images like CWM recovery. I think the TWRP represents for HTC Hero the best recovery image.
Before you start to install the TWRP on your HTC Hero device, you need to root the device, so the first thing is to take the root access for your Hero device. When you choose to root your device the warranty will get void, and the factory restriction will be removed, so be careful in what you do when make a change in your smartphone. The android.sc team is not held responsible for any changes or activities that you perform for your device in the particular circumstances, all what you do it is in your own risk.
The warranty can be restored if you'll make downgrade the HTC Hero to the stock ROM, or you take an official update from HTC for your Hero smartphone.
This method presented in this tutorial comes from those of xda-developers, and we want to thank then for this great work.
Before to move to learn how to Install TWRP Recovery on HTC Hero you need to follow some prerequisites which are required.
Firstly, backup all your important data which are saved in your internal storage memory of your HTC Hero smartphone, during the tutorial you have to do a full wipe of the system. That means you'll lose all your data stored into Hero device. For backup,  your data, you can use which methods you think are safe, and we also give you our backup tutorial which you can use to backup your data.
For backup,  your SMS you can download and install the SMS backup and restore for Android app, for your call logs you can use the backup call logs app for Android.
If you want to don't lose your contacts, then you need to sync your contacts with your Gmail account, for saving the images, videos or personal documents you can use one PC for that or an SD card. For flashing process,  you'll need a computer with, and Windows OS installed on it.
Deactivate/disable from both the PC and the Hero device the antivirus programs, firewalls or other security programs which can interact with the flashing process.
Enable the USB debugging option on your smartphone following the next patch:
Verify the charge level of the battery and charge your device more that 80 % before starting the installation procedure.
All the instructions and the "how to" method are compatible and work only for HTC Hero smartphone, otherwise you risk to brick your device, if you need or wish to install the TWRP in other devices than HTC then you must to search the specific tutorial for your model.
Install TWRP Recovery on HTC Hero – Tutorial
Download the TWRP Recovery file from here and save the same in your PC.
Connect your HTC Hero smartphone using its original USB cable.
Copy and paste the downloaded file from PC in to your smartphone SD card.
After you copied the downloaded file on Hero's SD card, disconnect the device from the computer
Now, turn off the HTC Hero device.
Enter in recovery mode, the recovery mode for HTC Hero can be entering by pressing the next combination of buttons "the Volume Down button while powering ON".
In the Recovery mode menu select "wipe data factory reset" and then "wipe cache partition".
Now, go back to recovery with "+++go back++".
Select "install zip from sd card" and then "choose zip from sd card".
Find and select the TWRP recovery file which you have copied before, and then install the same.
Now, select "+++go back+++" and "reboot system now".
Congratulation, now you learnt how to install the TWRP recovery on your HTC Hero smartphone. Now, your device is able to receive the latest custom ROM firmware for the same.
Please, share with us if you're in the face of issues related to instructions explained on this tutorial and we will make all the best help you