Root Galaxy Note N7000 on stock Android 4.1.2 Jelly Bean XXLT6 firmware
As you know the official Android Jelly Bean 4.1.1 XXLT6 update has been officially released for Galaxy Note N7000 device. So in case your Samsung Galaxy Note N7000 device is running on officially JB 4.1.2 XXLT6 version of firmware and you want to root the same then, during this present step-by-step guide we will learn how to obtain the root rights.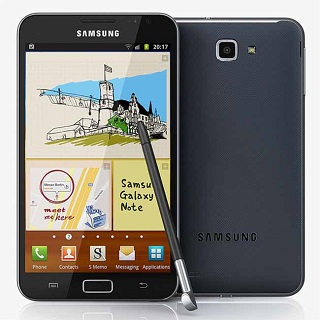 This root guide will use ODIN app which is a flashing tool developed by Samsung and you have to be carefully to follow all the steps and its configuration, we will list all the steps below.
When we are talking about a root guide some prerequisites are required to be followed before and some general instructions that must be checked out.  When a root procedure is applied on your device if something isn't followed you can easily brick your device, so knowing this you should pay your attention to the next guidelines and read all the lines from this step by step guide:
The root access is necessary when you want to flash custom tools, applications or ROMs on your device, and here I want to mention custom recovery images such us CWM or TWRP recovery, in case you want to have access on your internal system device's files, and also if you want to custom and improve the performances of your device.
The warranty of your device will get void, when this root procedure is applied, the root operation isn't an officially operation and this step-by-step guide isn't an officially method released by Google or Samsung.
The warranty can be restored only if will be installed a stock Android firmware, or you need to update your Samsung Galaxy Note N7000 device with an official release firmware, but when the device is rooted you cannot receive or install an OTA update, and you need manually update  official firmware.
Backup all your data stored on the internal device's memory because the Samsung Galaxy Note data might get wiped out during the root process. For getting a complete backup, make sure that you'll save the SMS, call logs, EFS, internet settings, sync your contacts and save all your images, movies and other important data stored on your internal system memory.
Enable the USB debugging option on the Note device ("Settings -> Applications -> Development -> USB debugging")
Verify the device's battery status, it should have more that 70% power left, in case your device doesn't have enough power left in its battery, a forced power off can be taken and you can damage your device.
Also, a windows PC will be used and the device's USB cable.
Deactivate or uninstall all the security settings and programs such as antivirus and firewalls.
This article and all instructions listed here are provided only for educational purposing, so we (Android.sc team) cannot be responsible or held liable in case you'll apply this guide and you'll lose any data or you brick your device during or after rooting process.
These were all the instructions and prerequisites that you need to know and apply before to move to the next section where we will teach you a step-by-step guide to root the Galaxy Note N7000 which is running on stock Android 4.1.2 Jelly Bean XXLT6 firmware.
 How to Root Smsung Galaxy Note on stock JB 4.1.2 XXLT6 OS
Install in your PC the suitable USB driver for Samsung Galaxy Note device (you can download and install  Samsung KIES for an automatically installation of drivers)
Now download the root pack file from here, save it in your PC.
Unzip the downloaded root file on the desktop.
Next, download Odin, unzip the file and install the ODIN app.
Run Odin app on your PC such as Administrator.
Power off your device.
Boot it into Download Mode (press Volume Down + Home + Power buttons in the same time)
Connect The Galaxy Note device to the PC using USB cable.
After the connection was established on the ODIN app must say "added" message and the ID:COM section should be collared on yellow or blue.
In case Odin doesn't display "added" message and ID:COM section isn't collared in yellow or blue you have to disconnect your device, change the USB port and reinstall the drivers once again, then repeat all the steps from the beginning (step 1).
From Odin select "PDA" button, browse and pick the extracted root file from desktop.
Now click on "start" from ODIN to start the rooting process.
Now, wait ODIN to complete the rooting process.
When the root process is successfully done the ODIN app will say "pass" message.
You can disconnect the phablet from PC, by safe removing the USB cable.
Reboot the Note handset.
Troubleshooting:
If the device will gets stuck or it will entering into a boot loop, you have to do:
Power off your device
Boot it into Recovery mode by pressing the Volume Up + Power + Home buttons simultaneous.
From the Recovery Mode menu select "wipe data factory reset" and "wipe cache partition" and confirm.
Now, return with "+++go back+++" and select "reboot system now".
If the ODIN app has been frozen or gets stuck, you have to do:
Close the ODIN app.
Disconnect the USB cable from the PC.
Force to restart the Galaxy Note device.
Reinstall the drivers once again to your PC.
Run Odin once again.
Reboot the Note device into download mode
Repeat all the steps from the root procedure.
That's all; you've successfully learned how to root Samsung Galaxy Note N7000 on stock Android 4.1.2 Jelly Bean firmware. Now you can install all desired custom ROM's available for Note device.
Don't forget to contact us in case you have any supplementary questions, using our comment section below.