Update Samsung Galaxy S Advance to Official Android 4.1.2 Jelly Bean DXAMD1 Firmware
In this step by step tutorial,  we will focus over a new Android 4.1.2 Jelly Bean, which is available for Samsung Galaxy S Advance I9070 device, this new OS update is named DXAMD1. During our tutorial,  you'll learn how manually update the official Jelly Bean 4.1.2 DXAMD1 on Samsung Galaxy S Advance I9070 device.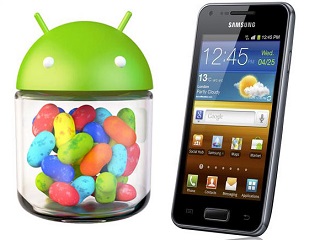 In the first section,  we will check on how to prepare the Galaxy S Advance device for installation of this new firmware on it and in the second part we will teach you during a step by step guide how to install this new official Jelly Bean firmware on the Galaxy S handset.
When a new update was rolled out, isn't available for all the devices in the same time and for this latest update is the same situation. The Android 4.1.2 DXAMD1 firmware isn't available for all Samsung Galaxy S Advance devices,  and that's why a manually update procedure is needed to be possible for all its users who want to install the same on their device. So, this manual guide can be useful for users who didn't receive by OTA this device, for the rooted devices or if in your S Advance device you have a custom ROM which is running and want to flash this official firmware.
This new Jelly Bean 4.1.2 DXAMD1 firmware comes to solve the bags issues which the previous version had, and it is a stable platform of OS. In additional,  it comes with some improvements in the trend of features and some new application such as Multi Window capability feature.
So before beginning the step by step update guide we will teach you the guidelines which have to follow in order successfully complete the installation of firmware. For ensuring that everything will work well don't skip any of the below steps, otherwise you risk to brick your device.
In the first line we want to tell you that isn't need a root smartphone to apply this official firmware, this guide will work in both version (rooted or un-rooted device).
The warranty for your S Advance device won't be affected by this update. This new firmware is an official update released by Samsung.
In case your device is rooted, applying this stock firmware you'll revoke the root access, and also the warranty will be restored.
You can use our root procedure if you want to restore your root rights over your Samsung Galaxy S Advance applied on the Android 4.1.2 Jelly Bean DXAMD1.
Now, backup all your data before to move at the step by step updating guide, this is a manual update process, and something which doesn't work well and you will wipe the system then you'll compromise your data.
In order to make sure you save the important data save your SMS, the contacts stored on your device, call logs history, EFS folder, market app. Save any other file such as pictures, videos, documents files by using a cloud backup method or you can backup locally. Note down the internet settings connection.
A Windows PC you'll need for the flashing process, also you'll need near of you the Samsung Galaxy S Advance device and its original USB cord.
Uninstall or disable all the security application which are running in your PC and in your device, this kind of applications (antivirus, firewall) can interfere with the firmware installation process and can interrupt it.
Enable the USB debugging option from your Android device by following the next path: "Settings -> Applications -> Development -> USB debugging"
Make sure that your device's battery has enough power left in it and for that charge the device's battery to have more than 80 % power left level. Otherwise, your device can to get a forced shut down, and this action can be dangerous for the device.
This guide and all information from here are compatible only with the Samsung Galaxy S Advance model I9070 device, so do not use this new firmware for any other device.
I think these represent all the prerequisites that you need to follow before to move to the next section where you'll learn how to update the Samsung galaxy S Advance to the stock Jelly Bean 4.1.2 DXAMD1 firmware.
 How to Update Galaxy S Advance to Official Jelly Bean 4.1.2 DXAMD1 Firmware
Make sure you have installed the suitable drivers on your PC, if not you can install the Samsung KIES app and install the drivers.
Download the Official Jelly Bean 4.1.2 DXAMD1 package file from here.
Extract the downloaded archive pack file on your PC desktop.
Now, extract, install and open Odin app.
Next, power off the Samsung Galaxy S Advance Device.
Boot it into Download Mode; for completing this operation you have to press and keep holding Power, Volume Down and Menu buttons simultaneous.
Now, connect your Android S device to the PC, using its original USB cable.
Look at the ODIN interface and make sure that the "added" message will be showed and the ID:COM together with the port number will be yellow or blue.
In case ODIN doesn't display in its interface the above elements, you will have to reinstall the suitable drivers once again, and after that to repeat all the guide steps from the beginning.
Now, if the ODIN works as we explained at the step 9, from the ODIN app you need to select the 'PDA' option.
Browse and pick the extracted firmware file.
Important: Make sure the RE0partition box in the ODIN interface must be unchecked. Don't make any other changes in the ODIN interface.
Now, when you are ready to start the updating process click on "Start" button from ODIN.
After the flashing process is done, the ODIN will display the "pass" message.
Disconnect the smartphone from the PC.
Troubleshooting and tips to solve the problems that can appear during the installation process:
IF the Odin application gets stuck or frozen you have to do:
Firstly, you need to close Odin app.
Disconnect the Samsung Galaxy S Advance from the PC
 When the smartphone has been disconnected force to restart it.
Now, you have to reinstall the proper drivers on the computer once more.
Open Odin app.
Boot the Android device into download mode.
Connect the Advance S device to computer using its USB cord.
Repeat the step by step guide from the beginning.
If your smartphone gets stuck or is entering in a boot loop then you have to do:
Firstly, force to reboot it into recovery mode, to do that you have to press on Power + Volume Up + Menu buttons simultaneous.
In the recovery Mode selects "wipe data factory reset" and followed by "wipe cache partition".
After you wipe cache partition select "+++go back+++" and from the main Recovery Mode Menu select "reboot system now".
That's all you need to do in order successfully update your Samsung Galaxy S Advance with the latest official Android 4.1.2 Jelly Bean DXAMD1 firmware.
For more questions regarding this manually procedure, please don't hesitate to use our comment section